3000 watt high frequency pure sine wave power inverter 24volt DC to 110 volt / 120 volt AC
· Pass Power Advantage: China's leading power inverter brand. Provides 3000 Watts continuous DC to AC power and 6000 Watts peak power, featuring 1 AC outlets or 2 AC outlets.
· Fast Charging: one 120V AC outlets for charging larger devices such as laptops and tablets
· Ultra Compact and Lightweight: new design ideal for use on vacations, work trips, and camping. 24 inch cigarette lighter plug makes the power inverter can be plugged into almost any vehicle
· Mufti-Protection: built-in 40 amps fuse to protect your device. Safe charging design provides protection against, overheating, under and over voltage charging, short circuiting, overloads, and overcharging etc.
· Durable metal housing provides advanced protection from drops and bumps. Integrated cooling fan helps reduce heat and prevents shortages. 24 Months Warranty.
Features
1. Output waveform: pure sine wave
2. 24v/DC input
3. 110v /AC output
4. Output frequency: 60Hz/50Hz
5. Rated power: 3000w
6. Peak power: 6000w
7. Working efficiency: 90%
8. THD<3% (less than standard 5%)
9. LED indication
10. Full power and soft start
11. High transform efficiency, fast start
12. Strong adaptability and stability
13. Safe and reliable with built-in fuse
14. Temperature controlled fan, safe & efficient
15. Low voltage protection
16. Over voltage protection
17. Over load protection
18. Short circuit protection
19. Input reverse connection protection
20. Over temperature protection
21. CE &ROHS &SGS &GMC &IP30 approved
22. 24 months warranty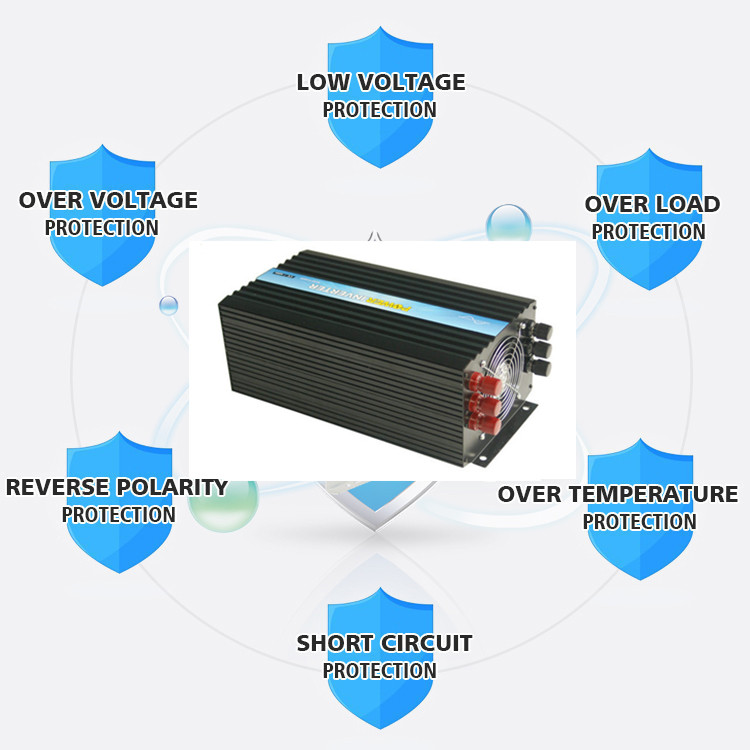 Specifications for P3000-24-110
Continuous output power: 3000 Watts
Surge power capability (peak power): 6000 Watts (wihin 5 millisecond)
DC input voltage: 24 volt
AC output voltage: 110VAC±10%
No-load current: <1.5A(DC26V)
AC Output frequency: 50HZ±1%/60HZ±1%
AC Output wavaform: Pure sine wave
Waveform distortion: THD<3%(Linear load)
Full load efficiency: >88%(DC26V)
DC input voltage range: 21.5V~31.5V
Low voltage alarm: 21.2±0.2V
Low voltage shutdown: 19.4±0.2V
Over voltage protection: 31.8±0.3V
Low volatge recovery: 24.4±0.2V
Over voltage recovery: 31.7±0.3V
Over-load protection: 120%~125%
Protective function
Low voltage: LED red light turn on,buzzer warning, automatic recovery
Over voltage: LED red light turn on ,automatic recovery
Over-load: LED red light on,machine locked, need to be rebooted
Over temperature: LED red light turn on,buzzer warning, automatic recovery
Short circuit(within 2 seconds): automatic recovery
Positive and nagetive reversed : fuse burn-out
Work temperature: -4°F to 122°F (-20°C to 50°C)
Storage temperature: -4°F to 158°F ( –30°C to 70°C )
Humidity: 20%~90%RH without condensation
work altitude: <1200m
Size: 17.56" x 7.84" x 5.75 inch (446*199*146mm)
Net weight: 19.65lbs (8.9kgs/pc)
Package size: 21.46" x 11.42" x 9.85 inch( 545*290*250mm)
Gross weight: 24.29lbs (11.00kgs/pc)