P-3000 3000w 48v to 120v off grid pure sine wave inverter for home solar power system pump invertor 3kw
1. 3000W continuous 6000W peak true pure sine wave solar power inverter, as good as grid power, power backup for home power supply.
2. Transfer 48VDC to 110VAC, 50HZ/60Hz frequency. Intelligent temperature control cooling fan. Earth connection for both PCB board and output.
3.High quality true copper inductance, filter the wave form, ensure the true pure sine wave AC output, safeguard your equipment. All big imported mosfets with strong driving capacity.
4. The PCB thickness is 2.00mm, allow the stronger current floating on the circuit, increase the load capacity.
5. High frequency transformer to transfer DC to AC, ensure the stable and full AC output
6. Free standard battery cables and spare fuse for replacement
7. Warranty:One-year warranty and life-time customer service.
Features
1. Output waveform: pure sine wave
2. 48v/DC input
3. 110v /AC output
4. Output frequency: 60Hz/50Hz
5. Rated power: 3000w
6. Peak power: 6000w
7. Working efficiency: 90%
8. THD<3% (less than standard 5%)
9. LED indication
10. Full power and soft start
11. High transform efficiency, fast start
12. Strong adaptability and stability
13. Safe and reliable with built-in fuse
14. Temperature controlled fan, safe & efficient
15. Low voltage protection
16. Over voltage protection
17. Over load protection
18. Short circuit protection
19. Input reverse connection protection
20. Over temperature protection
21. CE &ROHS &SGS &GMC &IP30 approved
22. 24 months warranty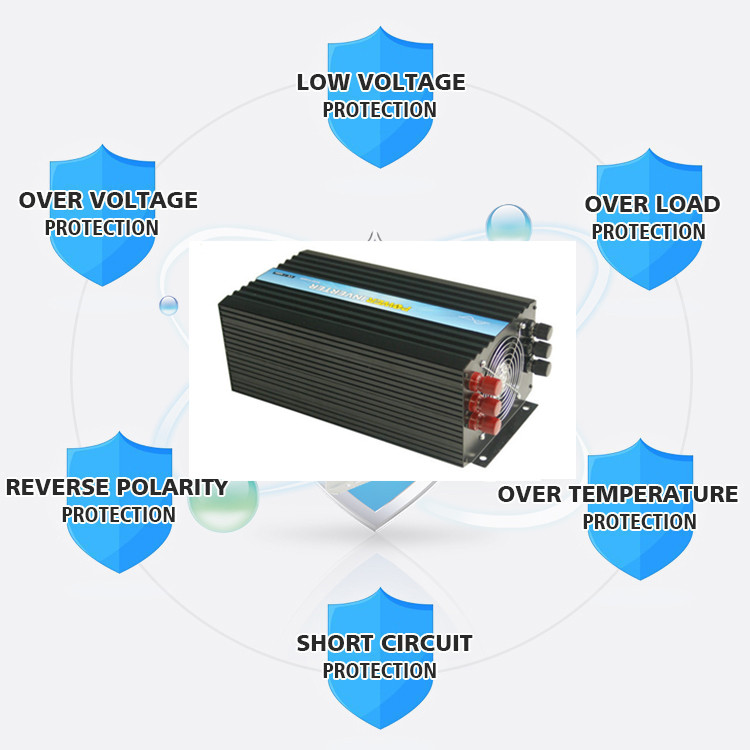 Specifications for P3000-24-220
Continuous output power: 3000 Watts
Surge power capability (peak power): 6000 Watts (wihin 5 millisecond)
DC input voltage: 48 volt
AC output voltage: 110VAC±10%
No-load current: <1.1A(DC52V)
AC Output frequency: 50HZ±1%/60HZ±1%
AC Output wavaform: Pure sine wave
Waveform distortion: THD<3%(Linear load)
Full load efficiency: >90%(DC52V)
DC input voltage range: 40.7V~61.8V
Low voltage alarm: 40.5±0.3V
Low voltage shutdown: 37.5±0.5V
Over voltage protection: 62.4±0.6V
Low volatge recovery: 47.7±0.4V
Over voltage recovery: 62.3±0.6V
Over-load protection: 120%~125%
Protective function
Low voltage: LED red light turn on,buzzer warning, automatic recovery
Over voltage: LED red light turn on ,automatic recovery
Over-load: LED red light on,machine locked, need to be rebooted
Over temperature: LED red light turn on,buzzer warning, automatic recovery
Short circuit(within 2 seconds): automatic recovery
Positive and nagetive reversed : fuse burn-out
Work temperature: -4°F to 122°F (-20°C to 50°C)
Storage temperature: -4°F to 158°F ( –30°C to 70°C )
Humidity: 20%~90%RH without condensation
work altitude: <1200m
Size: 17.56" x 7.84" x 5.75 inch (446*199*146mm)
Net weight: 19.65lbs (8.9kgs/pc)
Package size: 21.46" x 11.42" x 9.85 inch( 545*290*250mm)
Gross weight: 24.29lbs (11.00kgs/pc)