Product descriptions
· Passpower provides high quality inverters. This heavy duty inverter provides 5000W continuous power and 10,000W peak power,featuring 2xAC outlets and cables.
· Wide Applications: The inverters can be applied to RV,Truck,Car and Solar System
· Isolated Input and Output Design,Big and Durable aluminum alloy housing provides advanced protection from drops and bumps.Intelligent cooling fan helps reduce heat and prevents shortages.
· Soft Start Tech and Fully Safety Protections:Over voltage,Low voltage,Overload,Short circuit,Over heat,polarity reverse protection(fuse) and Soft start tech,Auto-restart function
· Warranty :12 Months provided by passpower
Product features
1. Pure sine wave output waveform,
2. Soft-start function,
3. Strong adaptability and stability,
4. Safe and reliable with built in fuse,
5. Max efficiency: >90%
6. Power ON-OFF switch
7. THD: <3%
8. Input & output voltage totally isolated
9. High quality (CE RoHS IP30 SGS GMC approved)
10. Thermo control cooling fan
11. Two-color indicators display power and fault status
12. Full power:The working power of 5000w inverters is enough 5000w.
13. Saving-energy
14. Built-in high speed cooling fan
15.Outside aluminum alloy shell ,good to therming dissipine to esure the woking life more long than others
16. Protection functions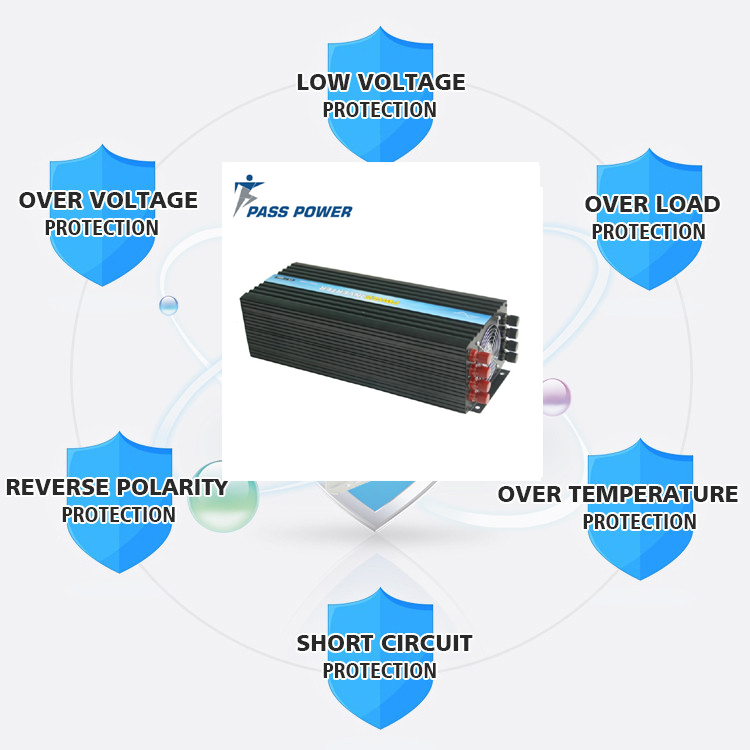 Specifications for P5000-48v-110v
continuous power: 5000W
Surge power: 10000W(wihin 5 millisecond)
DC input voltage : 48V
AC output voltage: 110VAC±10%
No-load current: <1.5A(DC52V)
AC Output frequency: 50HZ±1%/60HZ±1%
AC Output wavaform: Pure sine wave
Waveform distortion: THD<3%(Linear load)
Full load efficiency: >90%(DC52V)
DC input voltage range: 43.2V~63V
Low voltage alarm: 41.8±1.2V
Low voltage shutout: 38±0.4V
Over voltage protection: 65±2V
Low volatge recovery: 47.2±0.8V
Over voltage recovery : 63±1V
Over-load protection: 112%~114%
Protective functions
Low voltage: LED red light turn on,buzzer warning, automatic recovery
Over voltage: LED red light turn on ,automatic recovery
Over-load: LED red light on,machine locked, need to be rebooted
Over temperature: LED red light turn on,buzzer warning, automatic recovery
Short circuit(within 2 seconds) :automatic recovery
Input reverse connection : Fuse burn-out
Work temperature: -4°F to 122°F (-20°C to 50°C)
Storage temperature: -4°F to 158°F ( –30°C to 70°C )
Humidity 20%~90%RH without condensation
work altitude Within 1200 meter
Size: 21.46" x 7.84" x 5.75 inch (545*199*146mm)
Net weight 21.82lbs (12.6kg/pc)
Package size: 26.19" x 11.42" x 9.85 inch 665*290*250mm(1PC)
Gross weight 21.82lbs (16.00kg/pc)
Wide Applications:
The pure sine wave inverters 5000 watt 12volt 110volt can be applied to RV,Truck,Car and Solar System