Product Description
Intelligent battery charger is Maili's new generation smart charger. It has many of the protective features that consumers expect to have in a charger, including battery misconnection (wrong voltage), reverse polarity, battery disconnection or not connected, and battery failure analysis.

The latest high efficiency switching topology and microcontroller power management are utilized in its design. 8 charging stages are offered in our products. Charging rate/type selection can be easily made by the user through the selection switch on the front panel.

Depending on battery brand and type (lead acid, gel, lithium iron, and lithium manganese), the battery may require special charging curves and adjustment to the protective functions which differs from the standard settings. The charging curves and protective functions can be customized by reprogramming its firmware. Please note: the factory charging curve is for charging lead-acid battery. Please contact with Maili regarding other types of battery charging requirements.
Features for 24V DC 15Amps intelligent battery charger
1. Charging Strategy: multiple 8 charging stages
2. Charging Rate: Optional Charging Current
3. Recondition Function: recondite the sulfating of battery;Extend the service life of battery
4. LCD digital display on the screen: show the charging voltage, charging current and charging stage etc
5. Obtain the National Patent design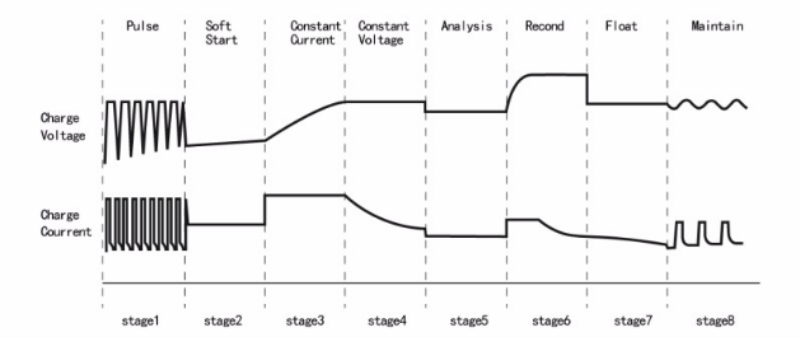 Technical Data
Applied widely can be used in GEL, AGM, WET, CAL.Li-ion.
Advanced intelligent system;
Adjustable charging current;
Wider input voltage range & inner active (passive) PFC power factors correct unit;
Equipped with battery recovery functions & prolongs the life of battery;
Innovative designs, stable performance, competitive price.
Adopt advanced Eight-stage charging work mode & obtains 3 national patents;
Stage 1(pulse charging) :
Pulse charging is used to revive tired lead acid battery which is either improperly charged/discharged or allowed to self-discharge
as occurs during non-use.Basically,help to restore its normal chemical properties.
Stage 2 (soft start):
Use low charge voltage and current to prepare the battery to accept upcoming bulk charging,so a better charge can be applied.
Stage 3 (constant current):
A high constant current is provided so the battery can be quickly charged to 2.4Vper cell.
Stage 4 (constant voltage):
A constant voltage of 2.4V per cell is provided until the charging current naturally tapers down to a low level.
Stage 5 (analysis):
The charger will stop charging for 2 minutes to determine battery status. If the battery voltage is higher than 2.1 V per cell, the battery is determined as OK and will move on to stage 6.If the battery voltage is lower than 2.1V per cell, the battery fail indication will come ON and the charger will be recharged following the before steps second time.
Stage 6 (recondition boost charge):
Boost voltage is provided to recondition the battery storage capacity to its original state.
Stage 7 (float charge):
A float voltage of 2.3V per cell is provided for extended period of time so that the battery can maintain full charge.
Stage 8 (maintain):
Maintenance charge is provided to compensate for battery self- discharge and extend battery life.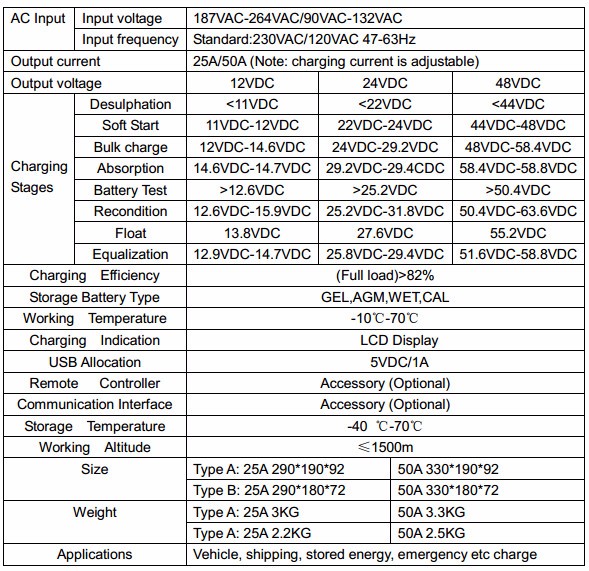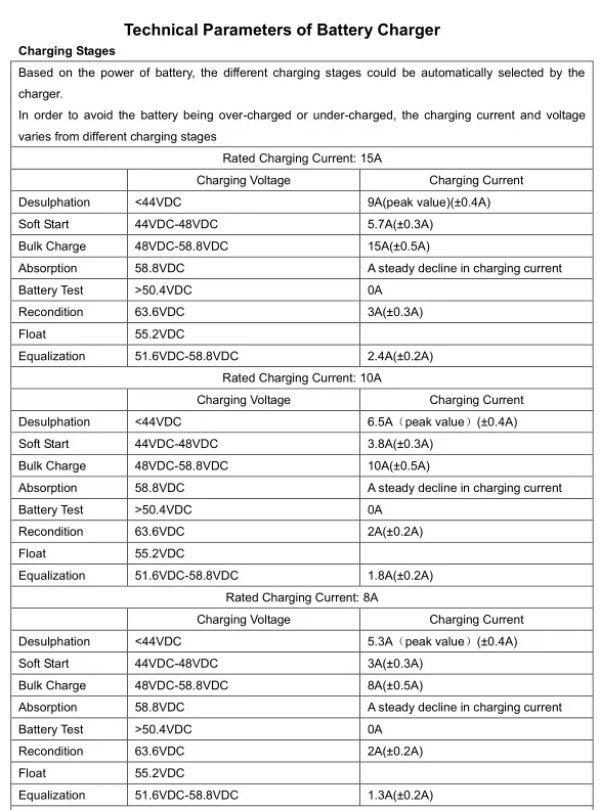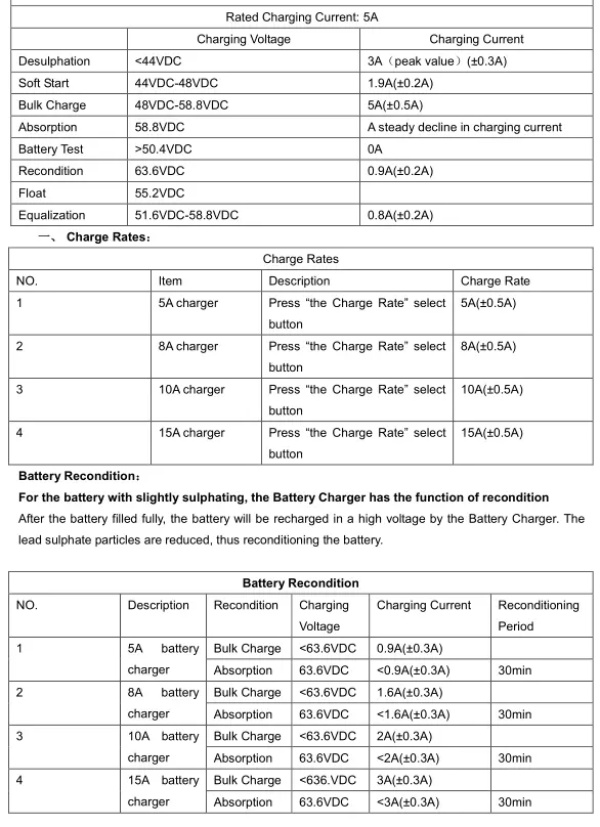 Applications