Product description:
Model: PS-3000W-24v-120v
· 3000 Watt continuous pure sine power
· 9000 watt peak power
· Built in smart battery charger with 7 selectable battery type settings
· Auto gen start feature.Multi Stage Smart charger 45 Amp
· Marine and industrial grade
The 3000 watt 24 volt low frequency pure sine inverter charger is three products in one, a combination of an inverter, battery charger and AC auto-transfer switch.
1. The inverter transforms DC (direct current) power stored by batteries into AC (alternating current) electricity that can be used to power tools and appliances of all varieties.
2. A built-in amp transfer switch, which will automatically detect when you're switching from shore power to battery-bank power.
3. It also has a built-in 45 amp battery charger which uses AC power, like from the grid or from a fuel-powered generator, that can be used to recharge a battery bank as well. The battery-type selector on the top of the unit allows the ability to adjust the voltage provided to the bank.
4. The most popular feature of this unit is the direct connect terminal block, which allows a 300 percent surge capacity. When using the terminal block, this inverter peaks at 9000 watts with the power to run many tools and appliances with a startup surges, such as a refrigerators, freezers, microwaves and blow dryers.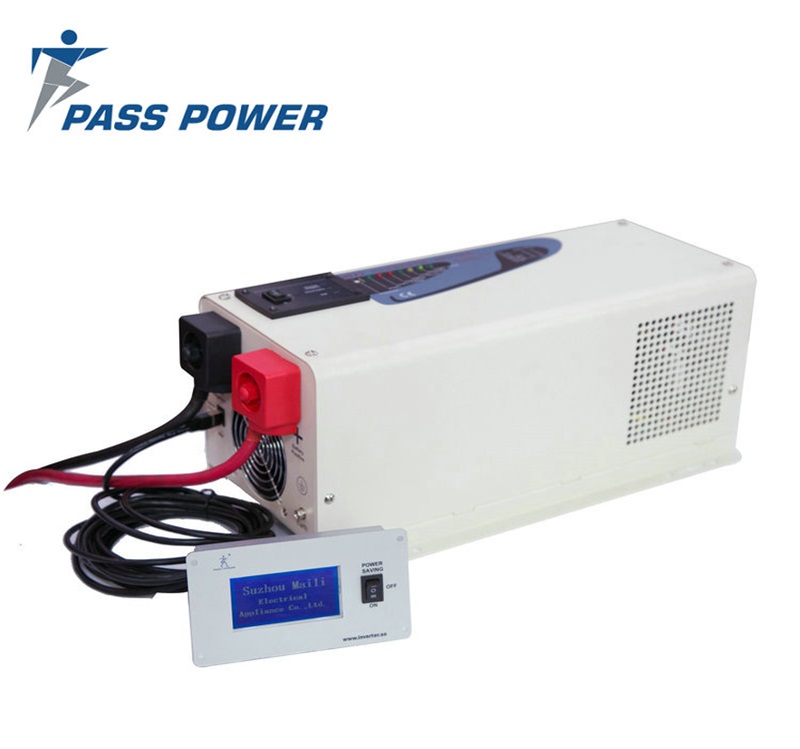 Product Features for PS-3000
3000 watt low frequency inverter
9000 watt surge 300% surge capability
DC input and Ac output totally isolated design
High efficiency 88%--90%
Inverter power saving mode
AC/Battery Priority Selector
Terminal Block
Multi Stage Smart charger 45 Amp
Remote LED display panel and the RJ11 standard interface available
8msec typical transfer time
Selectable 25W power save mode (hibernation)
7 battery type settings for charger

Containing 4-step charging modes, charging current automatic adjustment
Multiple protection functions over-current, overload, output short circuit protection etc.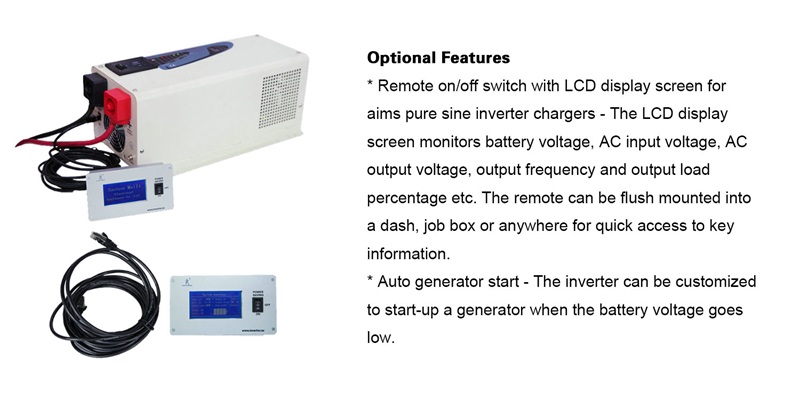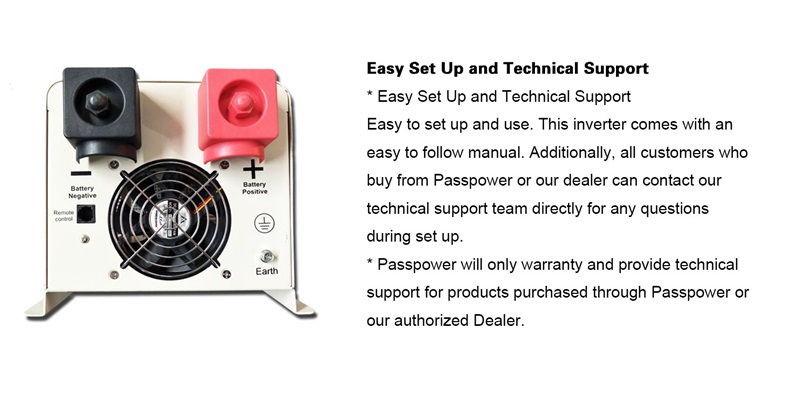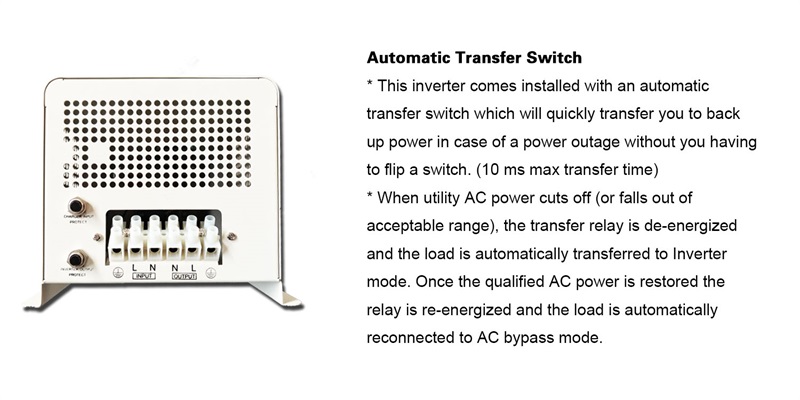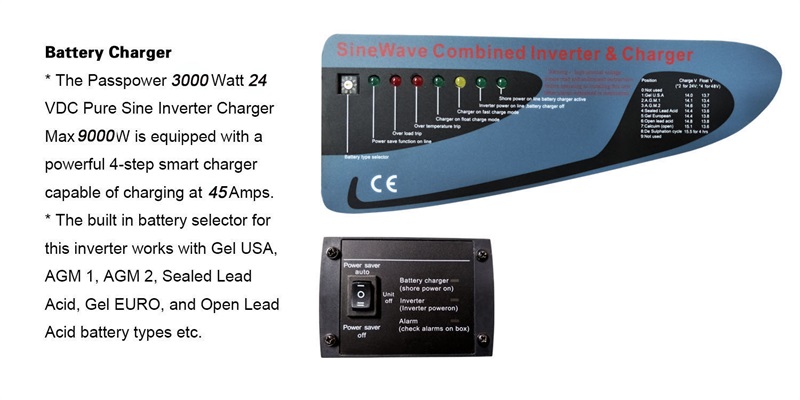 Inverter Output Specifications:
Continuous Output Power: 3000 Watts
Surge Rating: 9000 Watts
Output Waveform: Pure Sine/Same as input (Bypass Mode)
Output voltage:120VAC±5%
AC Input voltage range: 90~135VAC
Power factor: 0.1~1
Nominal Efficiency: >88% (Peak)
Line Mode Efficiency: >95%
Output Frequency: 50Hz +/- 0.5Hz / 60Hz +/- 0.5Hz
Typical Transfer Time: 8ms (Max)
THD: < 5%
Ambient operating temperature: -4°F to 122°F (-20°C to 50°C)

Input Specifications

Nominal Input Voltage: 24.0Vdc
DC Input voltage range: 20.0~32.0v
Minimum Start Voltage: 20.0Vdc
Low Battery Alarm: 21.0Vdc +/- 0.6VDC
Low Battery shutoff: 20.0Vdc +/- 0.6VDC
Low battery Trip: 20.0Vdc-21.0Vdc
High Voltage Alarm: 31.0Vdc
High Voltage shutoff: 32.0Vdc +/- 0.6VDC
Charger breaker - 30 amps
Power Saver Mode Idle Consumption: 10.0 watts
Charger Specifications

Output voltage: Depends on battery Type
Charger Rate: 45A

Dimensions

Unit Weight: 52.93 lbs.(24kgs)
Unit Size L x W x H: 18.83 x 8.67 x 7.10 inches (48x22x18cm)
Shipping Weight: 61.82 lbs.(28kgs)
Shipping L x W x H : 23.62 x 13.39 x 12.99 inches (60*34*33cm)
Basic datasheet for Pure Sine Inverter Charger 48vdc 120vac 3000w
| | |
| --- | --- |
| Model | PS3000-124 |
| Output power | 3000W |
| Impact power | 9000W |
| DC input voltage | 24VDC |
| Output voltage | 120VAC±5% |
| Output frequency | 50/60HZ±0.5% |
| Output wave form | Pure sine wave ( THD< 5 % ) |
| Power factor | 0.1~1 |
| Max efficiency | 88% |
| Standby power loss | <10W( Saving power mode ) |
| Switching time | <8ms |
| AC Input voltage range | 90~135VAC |
| DC Input voltage range | 20~32VDC |
| DC charging current | 45A |
| Fault indication | LED red |
| Remote switch (optional ) | RJ11-LED or RJ45-LCD |
| Work temperature | -20~50℃ |
| Working humidity | 20~90%RH |
| Storage temperature | -30~70℃ |
| Cooling way | Temperature controlled cooling fan |
| Net Weight(kgs) | 52.93 lbs.(24kgs) |
| Product Size(cm) | 18.83x8.67x7.10 inches 48*22*18(L*W*H) |
| Applications | Caravan, motorhome, camper,Car, yacht, solar energy systems, mobile devices, industrial control, power tools, Home Office etc. |