3000watt 12v DC to 220v 230v AC pure sine wave power inverter with LCD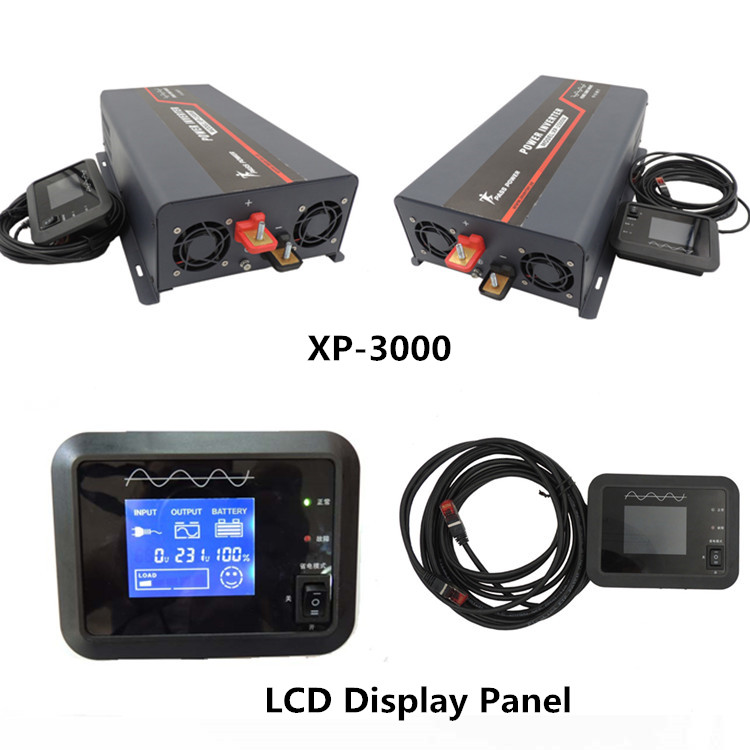 Product description
.Pass Power Advantage: China's leading power inverter brand. Provides 3000 Watts continuous DC to AC power and 6000 Watts peak power, featuring 2 AC outlets,LED indication and LCD display panel.
.Fast Charging: Two 110V or 120v AC outlets for charging larger devices. Use this inverter for renewable solar, off-grid home or business, mobile and emergency backup power applications anywhere that uses 220 or 230 volts of alternating current.
.Ultra Compact and Lightweight: new design ideal for use on vacations, work trips, and camping.
.Mufti-Protection: built-in 40 amps fuse to protect your device. Safe design provides low voltage protection,over voltage protection,over load protection,short circuit protection, input reverse connection protection and over temperature protection
.Durable metal housing provides advanced protection from drops and bumps. Integrated cooling fan helps reduce heat and prevents shortages.
.24 Months Warranty.
Features
1. Output waveform: pure sine wave
2. 12v DC input voltage
3. 220v AC output
4. Output frequency: 60Hz/50Hz
5. Continuous pure sine power: 3000w
6. Peak power: 6000w
7. Work efficiency: 87%
8. THD: <3% (less than standard 5%)
9. LED indication or optional LCD panel
10. Full power and soft start
11. High transform efficiency, fast start
12. Strong adaptability and stability
13. Safe and reliable with built-in fuse
14. Temperature controlled smart fan, safe & efficient
15. Low voltage protection
16. Over voltage protection
17. Over load protection
18. Short circuit protection
19. Input reverse connection protection
20. Over temperature protection
21. CE &ROHS &SGS &GMC &IP30 approved
22. 24 months warranty
Main advantages
1. High speed DSP processor, operate fast
2. Software adjusts DC and AC output voltage, frequency flexible. It can meet different customers' need
3. Software and hardware dual protection, reduce mos pipe loss, high stability
4. with power saving mode to reduce no-load loss
5. Optional: RS-485 communication, remote control interface
6. Customizable: Low temperature (-40℃) working model
7. Customizable input voltage such as 36V, 72V, 96V, 110V,127v,220v etc.
8. Customizable: Different sockets and AC voltage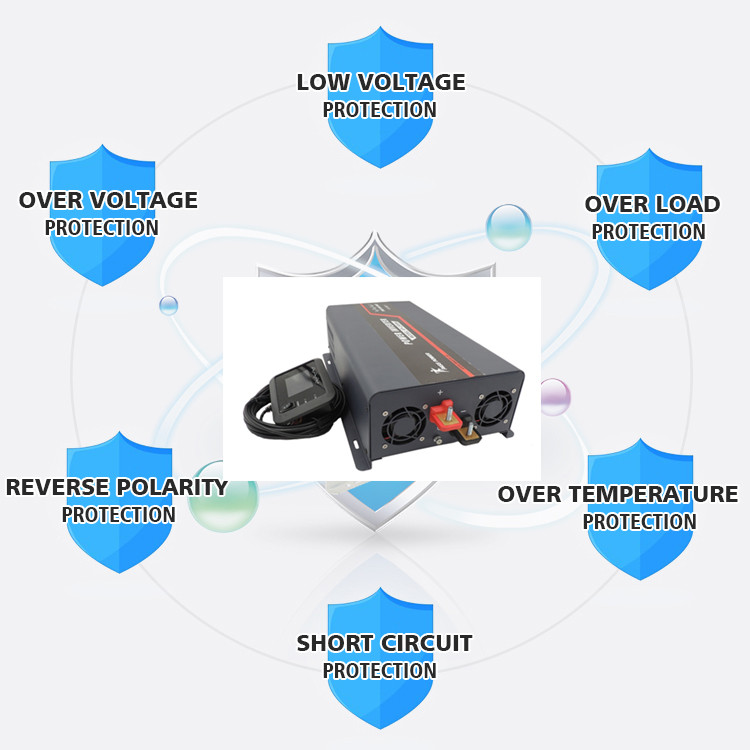 Specifications
Inverter Output Specifications:
Continuous Output Power: 3000 Watts
Surge Rating: 6000 Watts (within 5 millisecond)
Output Waveform: Pure Sine wave
AC Output voltage: 220VAC±10%
Power factor: 0.1~1
Full load Efficiency: >87% (Peak)
Output Frequency: 50Hz +/- 1Hz or 60Hz +/- 1Hz
THD: < 3%
No-load current: <2.2A (DC13v)
Over-load shutoff: 120%-125%
Ambient operating temperature: -14°F to 122°F (-10°C to 50°C)

Input Specifications

Nominal Input Voltage: 12.0Vdc
DC Input voltage range: 10.0~15.0v
Low Battery Alarm: 10.50Vdc +/- 0.3VDC
Low Battery shutoff: 10.0Vdc +/- 0.5VDC
Low voltage recovery: 12.0Vdc +/- 0.5VDC
High Voltage shutoff: 15.0Vdc +/- 0.3VDC
High voltage recovery: 14.0Vdc +/- 0.3VDC

Dimensions

Unit Weight: 52.93 lbs.(24kgs)
Unit Size L x W x H: 18.83 x 8.67 x 7.10 inches (48x22x18cm)
Shipping Weight: 61.82 lbs.(28kgs)
Shipping L x W x H : 23.62 x 13.39 x 12.99 inches (60*34*33cm)