Overview
Product description: Model: QSP-2000W
·2000 Watt continuous pure sine power
· 6000 watt peak power
· Built in smart battery charger with 7 selectable battery type settings
· Auto gen start feature.Multi Stage Smart charger with charger current control switch
· Marine and industrial grade

The 2000 watts low frequency Power inverter charger transforms DC (direct current) power, stored by batteries, into AC (alternating current) electricity that can be used to run your various tools and appliances at home or RV and commercial vehicle. This inverter also has a built in AC-to-DC battery converter charger, which allows users to recharge their battery bank from an AC source such as a fuel-powered generator, shore power or a regular outlet at home. The built in battery charger features a seven type battery selector and 4 stage charging, for safely and effectively charging your battery source. Use this product for renewable solar, off-grid, mobile and emergency backup power applications anywhere that uses 110volt or 220 volts of alternating current.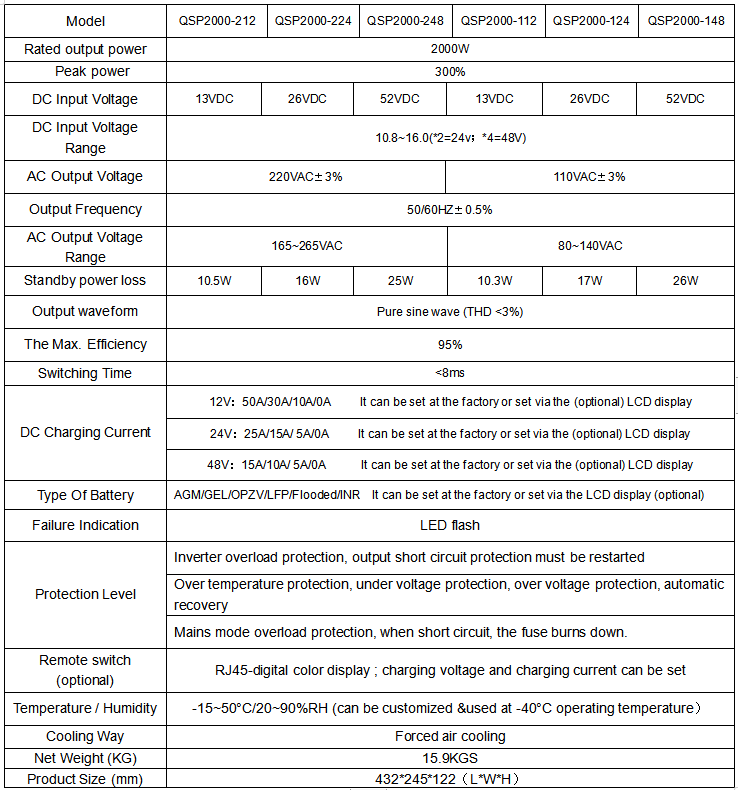 Product Description
Features
● A combination of a pure sine wave inverter, automatic battery charger and AC auto-transfer switch
● Low frequency transformer, input and output isolated design
● Pure sine wave output: stable frequency and voltage,small ripple
● 4-step progressive charging stages; charge voltage and current adjustable
● Super low power loss with no-load and save battery energy effectively
● Multiple protection functions, equipped with Ac and Dc input high & low voltage protection, over-current protection, overload protection, over-temperature protection, output short circuit protection and so on.
● Battery charging activation mode to avoid damage the battery that is deeply depleted when charging
● Two built-in independent chargers for starting battery and Auxiliary battery (customized)
● Bult- in Ac bypass replay (<12ms), realize the continuous output of AC power.
● Ultra-wide commercial power input voltage. (80-140VAC / 165~265VAC)
● Generator automatic energy distribution technology can use generator power effectively and reduce configuration.

●Customized functions:
A. Battery Overheat protection
B. Complete the system's personalized settings by the LCD display control panel (optional) or communications protocol software easily and quickly.
C.The inverter can charge the battery automaticly when AC power is available without turning on the inverter.
D.Priority inverter mode
E.The inverter can be turned on and used at -40 °C operating temperature.(Customized)
Detailed pictures